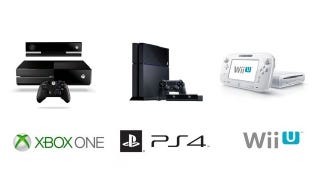 Let's just stop. Right here. Right now. Let's take a break from arguments over which next-gen console is going to be the best. Let's stop arguing over whether or not it's smart to buy either console on Day One. Let's stop all the negativity just long enough to do one thing. Unite as one — PS4 fans, Xbox One fans, Wii U fans, PC fans, and everyone else — in celebrating with each other, as gamers, as we see in the new generation.
Let's celebrate with the gamers out there getting ready to get their PS4s. Congratulations, you guys—you're about to get the fourth PlayStation, and if PlayStation's track record is any indication of things to come, you're in for a great ride. You're about to get a new and improved Dualshock controller, which is in all likelihood going to easily be the best Dualshock controller to date.
Let's celebrate with the gamers out there who are going to get their Xbox Ones soon. Congratulations to you too! You're about to get what is sure to be another successful console from Microsoft, with some awesome exclusive games. You're going to get all those awesome non-gaming features—Skype, snapping, more streaming options, and all that awesome NFL support.
Let's celebrate with the gamers out there who haven't decided yet or who are waiting to get one or both for whatever reason. It's still a great time to be a gamer. You get to sit back and watch things develop. You'll get to make a more informed decision on which console to purchase in the future, as people get their hands on the consoles and new games are released and announced. Even if you aren't getting a new console in the next week or two, it's still a wonderful time for reading gaming sites, talking with other gamers, and being excited for and anticipating your gaming future.
Let's celebrate with the PC gamers out there. With new consoles comes higher graphics abilities, which means multi-platform games that are released for the PC will get another jump in graphics quality. New consoles also give birth to new innovations in games, which will be translated to PC games.
Let's celebrate with the Wii U gamers. A year later, the Wii U is starting to get a nice library, with games like Pikmin 3, Super Mario Bros. U, Wind Waker HD, ZombieU, and of course the upcoming Super Mario 3D World. The virtual console game library is starting to flesh out, as well.
Last but not least, let's celebrate with the 3DS and Vita gamers. The 3DS library is now quite robust and is only going to get better this holiday season. There's no longer any shortage of great games for you to keep your 3DS from collecting dust. And, with the inexpensive new 2DS, portable gaming has never been more accessible. And the Vita's library is continuing to grow, with titles like Ys on the horizon. And let's not forget, the Vita's ability to stream PS4 games may help boost its sales, which could help encourage its game library to expand a lot in the next year or two.
I invite everyone to join me right here, right now, and celebrate this time in gaming. Let's just be happy for each other. Love the Xbox and hate the Playstation? Put that aside for now, just long enough to say "Congratulations" to the gamers who do love the Playstation, because tomorrow is going to be one awesome day for them. Are you the other way around? Do the same for the Xbox One people, because in a few weeks it's going to be their turn for one awesome day. Hate them both and worship the PC master race? You guessed it—forget about that hate for now, and just be happy for all the people who are about to step into a new generation of console gaming.
So, here's my congratulations: Congratulations, future PS4 and Xbox One. Congratulations, 3DS, Wii U, Vita, PC owners.
Congratulations everyone, because now is one hell of a good time to be a gamer.